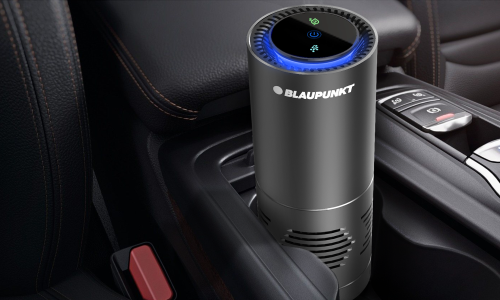 Blaupunkt Air Purifier AIRPURE AP1.0 unleashes clean air into the atmosphere within the applicable area ranging from 3-11m3. Designed with 3-layer filtration system , the Airpure is able to clean the air up to 99% being able to remove several hazardous particles present in the air. With simple touch control and the convenience to plug and play at any confined space, the result is obtaining unlimited clean air. The presence of AIRPURE AP1.0 will not be noticed thanks to the low level sound administered by the device. AIRPURE AP1.0 offer clean air to those with allergic, asthma and even younger kids. During Haze season, this device is an essential in the car. Be in the car - AIRPURE AP1.0 works like a charm.
Relative to traditional fan, turbine fans can output larger blast capacity in smaller space. But the manufacturing technology is more complicated with higher cost.
Blaupunkts Airpure AP1.0 car air purifiers feature a powerful, efficient and fast-acting air filtration system. The unique 3-stage SelectFilter Plus removes up to 125 harmful pollutants and exhaust gases, through its HEPA and HESA layers. Independently certified by Airmid Healthgroup, the SelectFilter Plus technology also removes up to 90% of airborne pollen allergens.
Activated when AirPure AP1.0 is turned on. Function to damage airborne germs & bacteria by disrupting the DNA and inhibit growth. *UV light, HEPA filter and Activated Carbon Filter provides sterilization efficiency up to 99% *UV light will be activated when AirPure AP1.0 is turned on.
Blaupunkt Car Air Purifier Filter for AIRPURE AP1.0 is a breakthrough design that contributes in providing you a cleaner, sterilized air to surround you and your loved ones. With activated carbon filter featured, the air quality can be as clean as 99% and the best part is, it can be used anywhere and its usage does not limit to car interiors only.
Cleaner air can be enjoyed with a little hint of aroma that infuses into the sterilized air. Drop a few drops of your favourite essential on the small aroma holder within the AirPure's filter. This feature helps you to benefit the clean air in the car. The holder is made of Polypropylene Cotton.